All the Fires the Fire
All the Fires the Fire
OUR WORK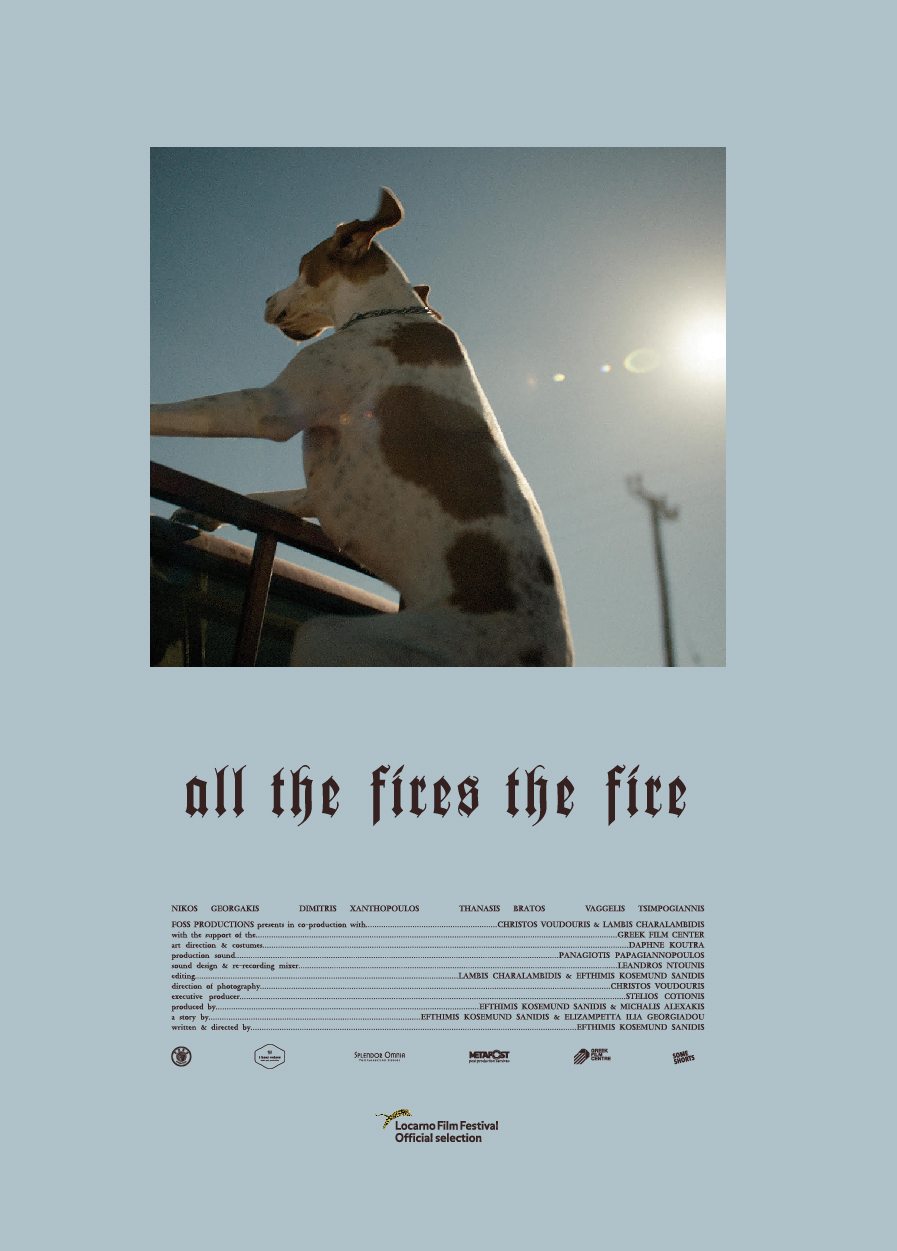 A Foss Productions short film
Premiered at the 72nd Locarno International Film Festival. Special Jury Award at the 2020 Clermont Ferrand Short Film Festival.
Director: Efthimis Kosemund Sanidis
Screenplay: Efthimis Kosemund Sanidis, Elizampetta Ilia Georgiadou
Cast: Thanasis Bratos, Nikos Georgakis, Vaggelis Tsimpogiannis, Dimitris Xanthopoulos
Other Festivals/Awards: Winterthur International Short Film Festival 2019- Special Mention, Glasgow Short Film Festival 2019, Kustendorf International Film and Music Festival 2020, Festival Curta Cinema 2019, Seanema FF 2019, Black Canvas Contemporary Film Festival 2019, Belgrade Auteur Film Festival 2019, ZINEBI 2019, Kino Pavasaris 2020, Festival Scope 2020, Go Short 2020, Akbank Short Film Festival 2020, New Holland Island IFF 2020, Shorts Mexico 2020, FICBUEU 2020, Tabor Film Festival 2020, Helsinki International Film Festival 2020, Thessaloniki International Short Film Festival 2020, Los Angeles Greek Film Festival 2020, Brno ISFF 2020, Festi-Freak 2020, Alcine Festival 2020, IndieCork Festival 2020, Tofifest IFF 2020
MORE INFO
All the Fires the Fire
Men set birds free on the mountains. Two grieving, estranged brothers try their marksmanship together with their sons. It's the hunting season. Can a bird' s heart stop in the sky with no bullets coming through its body?
Soul- searching and subtle balances of passion and ethics come to be expressed by the life circle of a farmed prey. A film about Lesvos, during the hunting season, and about two siblings and their sons, who will soon be confronted with much more than their talent at hunting.
CREDITS
Efthimis Kosemund Sanidis
Efthimis Kosemund Sanidis
Elizampetta Ilia Georgiadou
Efthimis Kosemund Sanidis
Michael Alexakis
Stelios Cotionis
Efthimis Kosemund Sanidis
Lambis Charalampidis
Christos Voudouris